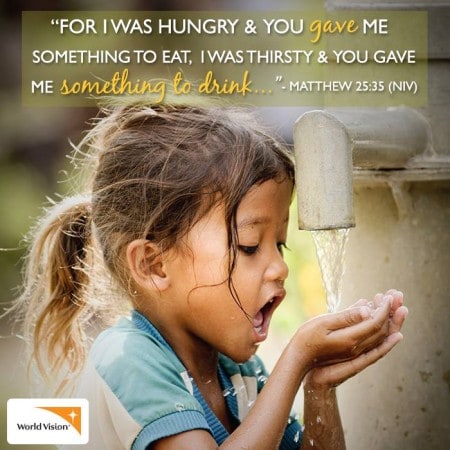 Have you ever considered sponsoring a child through World Vision? This year, World Vision is asking Christians to follow Jesus "into the margins," where children are suffering from poverty and violence that is imaginable to those of us living in the U.S. and Canada. When I hear about Syrian children drowning while their families are trying to escape ISIS, young girls being sold into sexual slavery, and families living in refugee camps without the most basic amenities, I am simply overwhelmed. I have wondered and prayed and asked why God is not intervening in these situations, and the answer I received was, "Do your part."
Well, okay then, I'm going to try to do my part. Which means that I'm working as a volunteer Child Ambassador for World Vision this fall, and focusing on two things –
Recruit Child Sponsors – I'm asking U.S. and Canadian blog readers and friends to commit to sponsoring a child in need for $39 per month. Your support will ensure that your sponsored child goes to school and that his or her family and community has access to food, clean water, basic health care, and resources that promote self-sufficiency. You can search by country, age, or sex here for children who need a sponsor.
Recruit Child Crisis Partners – I'm also asking blog readers and friends to consider helping vulnerable children in crisis hot spots (such as Syria, Lebanon, Haiti, and South Sudan) by contributing $25 a month to World Vision's new Child Crisis program that is helping children at the greatest risk for suffering from hunger, extreme poverty, and violence.
My family and I sponsor three girls in Cambodia and Vietnam. We are honored to play a small part in their lives and to know that we are helping them stay in school and helping their communities become stronger and more self-sufficient.
If you're interested in sponsoring a child, you can find children who need a sponsor here – Find a Child Who Needs Your Help. Feel free to  email me if you'd like more information – [email protected]
Healthy Life, Happy Marriage
Get 15 Ways to Connect with Your Spouse - When Life Gets Crazy! Plus simple tips for a healthy life and happy marriage - right to your inbox.