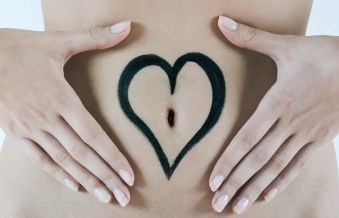 I've been thinking a lot about women's bodies this week. Specifically, I've been thinking about the love-hate relationship many women have with their bodies, which is often more about hate than love. And wondering why we do that – why we think and feel things that allow us to hate our own bodies.
Certainly one reason is that our culture perpetuates the lie that only young, sexy, thin bodies are beautiful and valuable. But it's not just secular culture; even some segments of Christian culture lean toward seeing women's bodies in primarily sexual terms and viewing them as "a problem." A thoughtful post at Warrior Wives this wed some of these issues and helped me think through my concerns about Christian "modesty culture." And then I read an article titled "When Your Mother Says She's Fat," which nearly broke my heart. The thought of a young girl seeing her mother as beautiful and elegant, only to hear her mother say "I'm fat, ugly and horrible" – and believing it, because mothers always tell the truth –  is stuck in my mind. As is the image of the same young girl hearing her grandmother say to her mother, "I don't understand why he'd leave you….You're overweight, but not that much."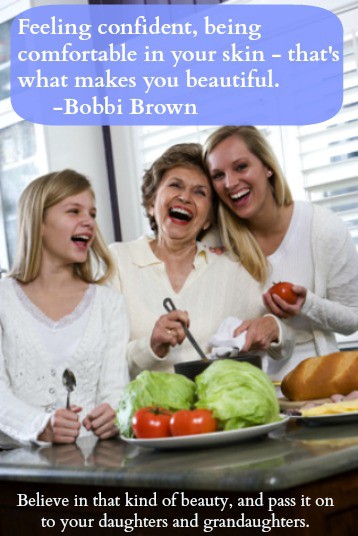 Friends, let's stop doing this to ourselves. Let's stop hating the bodies God gave us and start loving them, or at least liking them and treating them kindly and gently. Here are three reasons why we need to make this transition:
Hating our bodies creates a negative focus in our lives and saps our energy. Loving our bodies creates a positive focus and increases our energy.  I hate to think of the time and energy I've wasted hating or trying to change something about myself – time and energy that could have been used in 100 positive ways. In addition, because confidence is attractive, doing things that decrease my confidence actually make me less attractive – creating a vicious and self-defeating cycle.
Hating our bodies sends the message to our children that women's value is determined by a very narrow set of standards – standards almost no one actually meets. Loving our bodies sends the message to our children that women are inherently valuable, because they are created in the image of God.  When we love and value ourselves, we're free to help our children focus on the things in life that really do matter – family, friends, treating others with kindness, doing a good job, pursuing our interests and passions.
Hating our bodies constricts and closes down our sexuality. Loving our bodies opens us up to exploring our sexuality and enjoying sex and intimacy with our husbands.  It's almost impossible to feel sexual when we tell ourselves over and over "you're fat" or "you're ugly." But as we begin to love (or at least accept) our bodies, it becomes easier to believe that we were made to enjoy intimacy and to begin actually enjoying it.
If you want to love your body – or at least like it! – here are some ideas for getting started:
Avoid television shows, magazines and other media that feature perfect women. Those women are media creations; they don't actually exist.
Treat your body well. Eat healthy food, exercise regularly, sleep at least 7 hours each night, keep stress under control, and take some time to do things you enjoy.
Get up and move. Regular exercise/physical activity makes you feel great and helps you look great.
Stop thinking and saying negative things about yourself.  Whenever you catch yourself thinking or saying something negative about your body, stop and rewind. Replace those words with positive ones that focus on your strengths.
Disconnect from people who make you feel bad about yourself. Some people gain energy by making other people feel bad, and some are just thoughtless. Avoid both types as much as possible.
Stand up straight and walk with confidence. Look people in the eye and speak with confidence.  Try it as an experiment, even if you don't feel it. Confidence is attractive.
Wear clothes that make you feel good.
Work on something you really want to improve.  Almost every woman wants to improve some aspect of her appearance, which is fine. Pick a change that's reasonable and will make you feel good and go for it.
I'm working on loving my body and feeling good about my appearance, although it is difficult. How is it for you? What tips do you have for loving your body and yourself? Please share your thoughts in the Comments – I would love to hear from you. Gaye
Sharing with Let's Get Real Hop, Saturday Pin It Party, Mommy Monday Blog Hop, Create with Joy, Messy Marriage, To Love, Honor and Vacuum, Pursuit of a Functional Home, Pin It Tuesday, The Pin It Party, Live Laugh Rowe, We Are That Family, Mercy Ink, Hearth and Soul Hop and Create With Joy.