Do certain tasks stay on your "to do" list, but never seem to get done?  You know, the ones that just don't fit into your daily schedule, that  require "extra" time you just don't have? They bug you, you want to do them, but you can't seem to get them done!
I call these "Little Annoying Tasks" because they tend to live in the back of my mind, annoying me as often as possible and making me feel like I ought to be a better/harder working/more organized woman!  They're the things I don't have to do today, so I put them off until tomorrow. Sometimes it takes me months to accomplish them. Recently, however, I started making a "Little Annoying Tasks" List (LAT List) and using it to slowly but steadily work on some things I've really wanted/needed to do. Checking things off my LAT List has given me a sense of accomplishment and helped me feel calmer, without overwhelming my schedule.
If some annoying tasks are hanging around and bothering you too, try these simple steps for tackling them:
Make a LAT List that is separate from your regular to-do list. Create it on your phone, computer or paper – wherever you'll be able to see it and refer to it easily. I make some lists on my phone, but like to write my LAT List on a 3×5 card that I keep on the kitchen counter.
Include tasks that aren't part of your daily or weekly routine – things that you want to accomplish but normally don't have time to do. List as many as you like, but keep it manageable – I like to have 8-10 items on my LAT List.
Include tasks that will take different amounts of time to do – some that can be done fairly quickly (10-15 minutes) and others that will take longer. For very involved tasks, consider breaking them into several smaller tasks that you could do on different days. Be sure to include several that will take 30 minutes or less to accomplish.
Refer to your list daily, just to keep in mind the things you want to get done. Then, every 2 or 3 days, pick an item and do it!  Start with the things that require less time – do one, cross it off the list, and pat yourself on the back. A day or two later, pick another one and do the same thing. For those that require a bit more time, be thinking ahead to when you might be able to fit them into your schedule.
Don't feel bad if you don't accomplish one of the tasks for a few days.  This process should be completely positive, not something you beat yourself up about! Just keep your LAT List where you can see it and try to work one of the tasks into your schedule every few days.
Enjoy the feeling of accomplishment.  Here are the Little Annoying Tasks I've accomplished in the past week or so – cleaned and organized my side of the bed/bedside table (both were in embarrassingly bad shape – see before and after pictures below!), took clothes to the seamstress and picked them up (items that my son had been asking me about for weeks), picked up clothes at the dry cleaner (that had been ready for a month), and bleached the shower curtain that was embarrassingly spotted with mildew. These are all things that I tend to put off, or don't even think about until it's too late (like when I trip over books and magazines as I fall into bed). But having my list in front of me reminded me that I really wanted to get these things done, and now I am ridiculously happy with the results.
When you've completed everything on your LAT List, make a new one and keep going until you've completed all of your Little Annoying Tasks.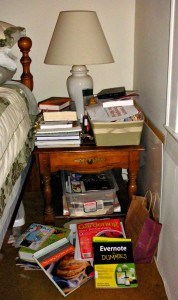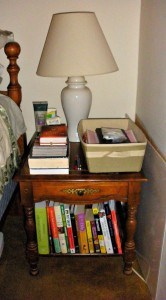 (This area was actually worse than it appears in the picture. It took me 35 minutes to clean and organize it, and I am ridiculously happy with the results.)
Do you have a secret for accomplishing little annoying tasks? I would love to hear about what works for you.
I also would love for you to  subscribe to Calm.Healthy.Sexy. by email. Enter your email address in the sidebar (under Subscribe to Blog Via Email). And please follow Calm.Healthy.Sexy. on Twitter (@CalmHealthySexy), Facebook, or Pinterest.
Gaye
Linked to the fun and exciting blog hops at TALU Tuesday, Women Living Well, To Love, Honor and Vacuum, Romance on a Dime, A Proverbs 31 Wife, Frugal Living and More, A Humble Bumble, 33 Shades of Green, Not Just a Housewife, The Empowered Momma, and The Wilderness Wife.