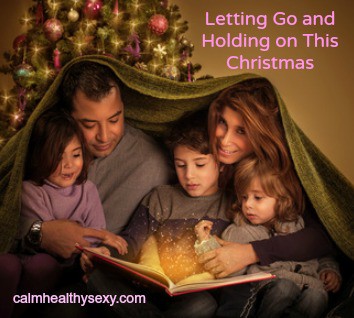 How are things going for you? I hope you're enjoying the wonder of Christmas and avoiding the stress and strain of the season. For me, this is turning into a Christmas like no other. My mother's sudden illness and death have turned everything upside down for me and my family. Not only are we grieving our loss, we're also trying to figure out what Christmas should look like in the midst of such a loss. And we're wondering about practical things too, like how we'll shop and clean and decorate and cook, given that we've missed more than two weeks of preparation time.
So, in this final 10 days before Christmas, I'm trying to let go of things that don't matter, the things that block faith, hope and love. And to hold on to the things that do matter, the things that bring meaning, peace and joy. If you're feeling in some way that the joy of Christmas is slipping away, consider joining me in letting go of:
Unrealistic expectations – Perfect gifts, perfect food, perfect holiday, perfect children, perfect husband – they don't exist. And even if they did, they would not be happening at my house this year. I'll be lucky to accomplish the most basic of Christmas tasks. So I'm letting go of unrealistic expectations. If you're feeling stressed in any way, I hope you'll let go of them too.
Control – I sometimes feel the need to control everything. I think many women do. But we can't, we shouldn't, and we need to stop trying. Attempts to control sap our energy and joy and say to other people, "I don't trust you to do it right."
Petty angers, annoyances and jealousies – In this season of giving, let's give others the gift of grace and forgiveness for the small ways they've hurt or annoyed us. Holidays can bring old hurts to the surface; this year, let's move beyond them in the spirit of joy and peace.
Instead, let's try holding on to:
Faith – During this time of upheaval, I'm choosing to hold on to my faith, to my belief that God is good and ultimately in control. If you're experiencing upheaval in your life, or just feeling the stress and strain of the season, I hope  you'll hold on to faith too.
People – You know this as well as I do, but sometimes we forget – all of the good things in our lives begin and end with the people in our lives. Everything else – things, schedules, events, places, traditions – pales in comparison to the value of the people around us. Let's focus on them and let them know that they mean everything to us.
Joy in the small things -Let's decide to enjoy the simplest things – cooking dinner, listening to Christmas music, sitting around the tree, baking messy cookies and wrapping messy presents with our kids, walking outside, enjoying intimacy with our husbands.
Are you letting go and holding on this Christmas? Please share your thoughts in the Comments – I would love to hear from you. Gaye
Sharing with Messy Marriage, To Love, Honor and Vacuum, Welcome Party Wednesday, Pin It Monday, The PINcentive Blog Hop, Clever Chicks Blog Hop and Making Your Home Sing Monday.
Add a little bit of spice to your marriage!
Get 18 Ways to Spice Up Your Marriage. Plus simple tips for a healthy life and happy marriage - right to your inbox.