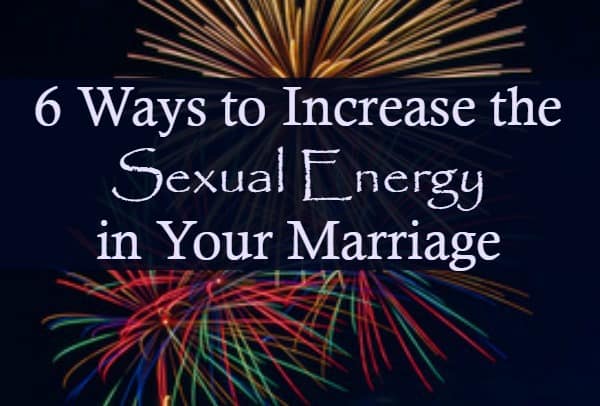 How's the sexual energy level in your marriage? Is it high or low, or somewhere in between? Are you working to increase it? I'm not talking making love more often (although that's good too!), but rather about infusing your marriage with sexual energy – the communications and actions that say to your spouse "I want you" and "I want to make love with you."
High sexual energy is nearly universal in new relationships, but tends to decline after a few years.  You know what happens – life gets busy, a couple of kids come along, careers become more demanding, family members need more of your time and attention – and suddenly your sexual energy is gone. You can probably remember it, but very often you just can't feel it.
Fortunately, maintaining your sexual energy or getting it back isn't usually hard. And it can be a lot of fun. But it does require some of your time and attention, just like maintaining your physical, mental and emotional energy requires some time and attention.
So if the sexual energy in your marriage is drooping – or totally missing in action – don't despair. Here are six ways to boost your sexual energy and increase it in your marriage.
1. Spend some "down time" together.
It's really hard (if not impossible) to maintain high sexual energy if you're both running from one activity to another all day, every day. And it's doubly hard if you're both connected to your phone, tablet or laptop most of the time.
So figure out a way to spend some "down time" together, when you can unwind a bit and enjoy each other's company. It doesn't have to be an official date (although dating your spouse is great); rather, it can be something as simple as watching a movie, taking a walk, or having a glass of wine together. Or doing something a little bit adventurous together.
2. Open up avenues of sexy communication.
Introduce some sexual innuendo into day-to-day communication with your husband. It can take the form of sexy texts or emails, a quick comment during a phone call, or a whispered reminder. I must be a slow learner because I didn't realize until a couple of years ago that married couples can sext each other! But indeed they can! Use sexier words than you normally use, keeping it fun and flirty. If the idea makes you uncomfortable, start with something mild and work your way up to something steamier over time. (This is the approach I've had to take, and it's still a work in progress.)  Also, writing (text or email) may be easier than talking at first.
3. Engage in public displays of affection.
OK, I'm not talking about teenage PDAs here – nothing tasteless! But, you know, it's really okay for married couples to show a bit of sexual affection at home and in public. So give him a real kiss in the kitchen, sit on his lap once in a while, pat him on the butt, or put your hand in the back pocket of his jeans. Your kids may moan and complain, but you know what – they really like knowing that their parents are still into each other. And making that kind of semi-sexual connection regularly can give your sexual energy a boost.
4. Show a little skin.
Again, nothing tasteless. But a little flash of skin when no one else is looking is fine, and definitely gives your sexual energy level a boost! Showing a bit more skin in the bedroom can be sexy too, either by wearing lingerie instead of your husband's old shirts (or is that just me?) or wearing less to be than you normally wear. (If that feels intimidating, use dim lighting until you get comfortable with it).
You can also do this with photos, if you're careful and discreet. And consider choosing outfits when you go out with your husband that are a bit sexier than your standard attire. For example, I have a couple of outfits that I wouldn't wear to work or church, but I do wear them when just the two of us go out.
5. Let other people know you still think he's hot.
When you're with family and friends, touch him and stand close to him. Kiss him. Speak positively about him. When others make negative comments about their spouse or marriage, make positive comments about your husband and marriage and about marriage in general.
6. Revive your inner flirt.
Once upon a time, most of us knew a little bit about flirting. But somewhere along the way, probably around the time baby #2 came along, we lost track of our inner flirt. So see if you can revive yours. Wink at him from across the room. Smile at him for no particular reason. Touch him when you talk to him.
Brush up against him. Compliment him. Wear something you know he finds attractive. Ask him for help with a "manly task," even if you're perfectly capable of doing it yourself. Make him and you feel good about your marriage and your sexuality.
Do you find it easy or difficult to maintain the sexual energy level in your marriage? What are some "energy boosters" that have worked for you? Please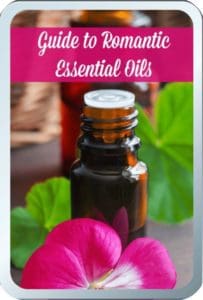 share your thoughts in the Comments – I would love to hear from you.
(This post is intended to offer ideas and encouragement to women in generally healthy marriages. If you're in a difficult marriage, these ideas won't be helpful. If that's the case, please seek help from a professional counselor to address the issues you're facing. And if you're in an abusive marriage, please seek help from law enforcement or a crisis organization in your community. You can contact the National Domestic Abuse Hotline at https://www.thehotline.org/ or 1-800-799-7233 for information and resources.)
If you're looking for a simple way to boost your sexual energy, check out my 14-page mini-ebook, Guide to Romantic Essential Oils. Oils and scents have been used to boost libido for thousands of years, and they may help you boost yours.