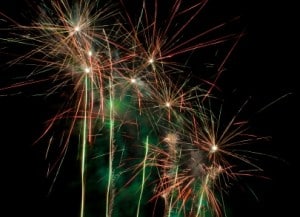 Let's end the year with a bang (so to speak – lol!) by making sex and intimacy a priority. Over the next few days, decide that fun, exciting and/or romantic sex with your husband will move to the top of your "to do" list. Then take some steps to ensure that it does – maybe by trying one of these ideas, or doing something else that works for you:
Think about sex.  If your mind won't "go there," read a book or blog (like this one or this one) that promotes a positive view of married sex, in order to move your thoughts in that direction. Think about something fun that you and your husband have done, or fantasize about something you'd like to do. And when your mind starts moving in that direction, keep it going – it's so easy for the problems of the day to turn our minds away from sex and intimacy.
Talk about sex.  This is harder for a lot of women, but give it a try. Make a funny/suggestive comment to your husband. Let him know you want to have sex soon. Mention something you'd like to do for him, or would like him to do for you. Wherever your boundaries for talking about sex are set, push them just a little bit.
Get in the mood for sex. Whatever helps you get in the mood, do that. Exercise, dance, take a walk, take a warm bath, listen to sexy or romantic music, put on some lingerie, horse around with your husband – whatever works for you.
Initiate sex. Few things make a husband happier than knowing that his wife wants to have sex with him. And what better way to let him know than by getting something going. It doesn't have to be big and bold, if that's outside your comfort zone – something subtle is fine. (Although not too subtle – he's not a mind reader!)
What do you think? Would these ideas help you set off some fireworks? What ideas have worked for you? I would love to hear from you.
I hope that you and I both end 2012 with fireworks, and look forward to talking with you soon about ways to stay calm, be healthy, and feel sexy in 2013. Gaye
Linked to the fantastic blogs and blog hops at I Gotta Try That, Flamingo Toes, Nifty Thrifty Things, Mom on Timeout, Live Laugh Rowe, Six Sisters' Stuff, Sincerely Paula, At Home Take 2, What Jean Likes, Crafty Spices, Oh So Amelia,  The Chicken Chick, Twinkle in the Eye, Nanny 2 Mommy, and What About.