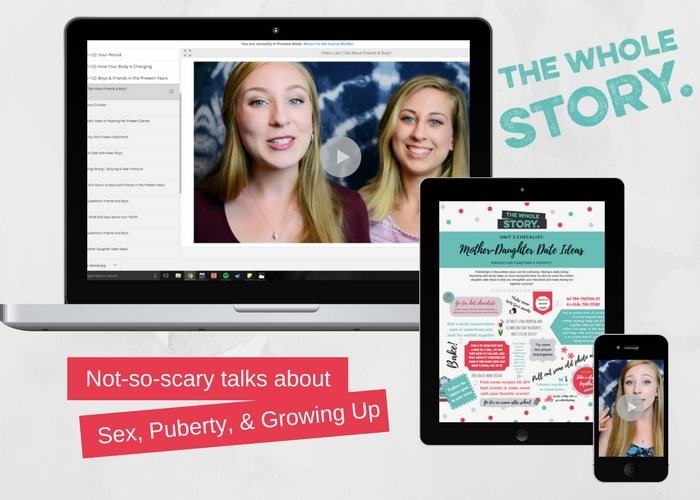 As a parent, talking with your child about sex is one of the most important – and stressful! – things you do. In our sex-saturated culture, it seems like an uphill battle – not only is it awkward, it seems like you may lose the war before you even enter the battle.
And if you have daughters, the task may be even harder. Because the messages our culture sends to girls and young women are just so messed up! I mean really messed up. It's hard for a mom (or an aunt or a grandmother or a youth leader) to know where to start and what to say. (This post contains affiliate links.)
So I was thrilled to learn that Christian author Sheila Wray Gregoire, along with her daughters Rebecca (22) and Katie(20), has just released a new video course, The Whole Story, that helps moms talk to their daughters about sex, puberty and growing up. It's actually two courses, one geared for girls ages 10-12 and one for teens ages 13-15. It features Sheila and her daughters talking about important topics in a fun and God-honoring way.
And here's what I love the most about it – it's entirely positive, with absolutely no focus on guilt or shame. (Because, let's be honest, a lot of the sex messages girls hear in the church are centered on guilt and shame and making them feel bad about their bodies.) It's designed to help girls and teens become the women God intended for them to be and to live the lives He intends for them to live. And that includes healthy body image, a thorough understanding of sex, and fabulous sexual intimacy in marriage.
Sheila is great (have you tried her awesome Boost Your Libido video course?), but her daughters add so much to this course – it's like having fun and knowledgeable big sisters talk to your daughter about important and sometimes difficult topics, including:
For Girls Ages 10-12
 Your Period

 How Your Body is Changing

Boys & Friends in the Preteen Years

 "The Talk"

Self Care in the Preteen Years
For Teens Ages 13-15
All About Your Period

Becoming a Woman

Friendships in the Teenage Years

God's Design for Sex

Showing Respect for Yourself and Your Body
I don't have girls, and our boys are beyond the "sex talk" stage. But I remember how difficult those preteen and teen years were, and how hard it was to talk about sex in a positive way that didn't totally gross them out! We had some resources, but nothing like The Whole Story. And while this course is for girls, Sheila is planning a course for boys.
If you're looking for a positive, informative resource that will help you talk to your daughter, or any girl or teen in your life, about sex and puberty, I encourage you to check out The Whole Story. The VIP edition that includes lifetime access to both courses and a lot of bonus resources, is on sale this week for $69 (regularly $99), as a course launch special. This price is good thru midnight next Monday, September 17. You can also purchase one-year access to each course (without the bonus resources) for $39. However, this launch special price for the VIP is a really great deal.
For more information, visit The Whole Story and click on the Free Trial button. You'll get an overview of the course and materials, and you'll be able to watch some of the videos.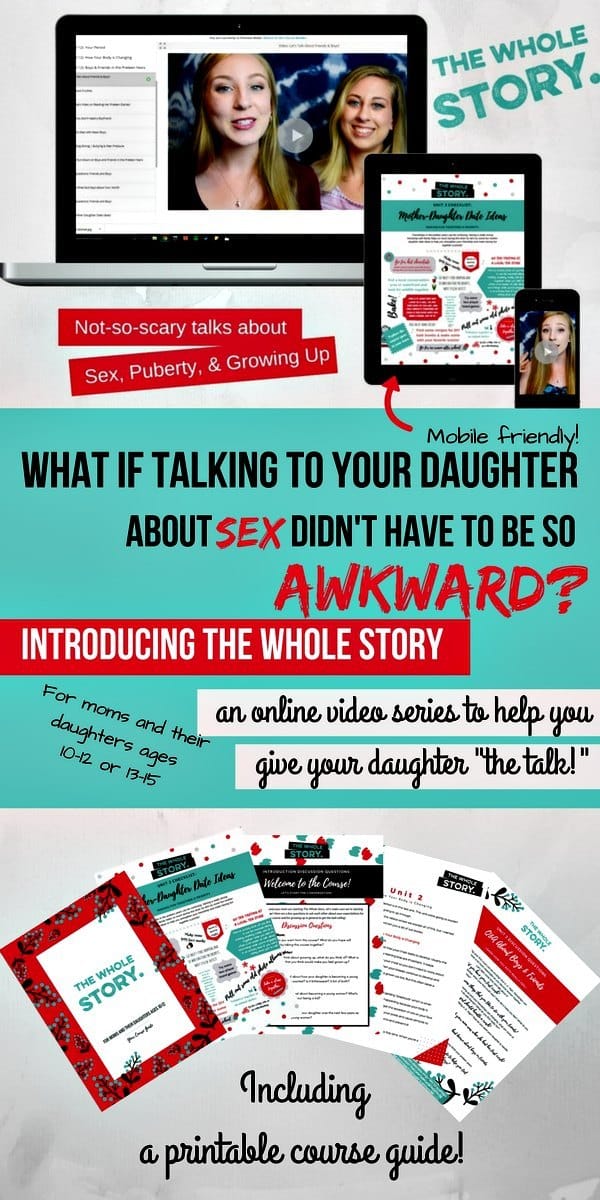 Create your best life!
Get health and marriage tips by email + a free marriage resource