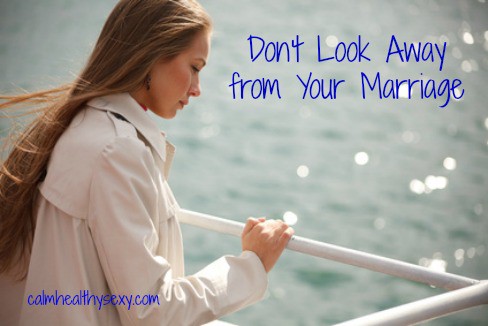 If you've been married more than a couple of years, you've probably wondered at some point where your marriage was headed, why things were so difficult, or even if you'd made a mistake in getting married. I've had a few thoughts about my marriage over the years that I'd rather not admit, and you probably have too. Honestly, I think that's normal. We're imperfect people in imperfect relationships, and sometimes things get kind of dicey in those relationships.
Real problems arise, though, when those disappointments and questions lead us to look away from our marriages. Suddenly, we're looking at a friend's marriage, and it seems so perfect. A single co-worker's life of freedom looks so tantalizing. Or a man at church seems so funny and interesting. And our own marriage and husband begins to look less and less appealing. These kinds of thoughts, not the initial questions or doubts themselves, are the ones that lead us into dangerous places.
I read an article this week that describes what can happen when we look away from our marriages for the things we should be searching for inside them – fun, companionship, support, conversation, love, sex. Alisa Bowman of Project Happily Ever After wrote about the infatuation that can result when people become dissatisfied with their marriages and begin to see in another person the things they wanted to see in their spouse. Very often it seems innocent at first, then exhilarating – and then suddenly it's a vortex of stupidity and sin. I've seen people fall into that – smart people, nice people, church people – and you probably have too. From the outside it looks like they've lost their minds. Because, in a way, they have. Check out Alisa's article for a reminder of the importance of looking toward and building up our marriages, especially when "happily ever after" seems far, far away.
One way to stay focused on that goal during easy and hard times is to choose carefully the words we say to our spouses. We know that words can build up or tear down, but sometimes we're too busy or too tired or too angry to choose them carefully. James at Bowling with Ed shared this week "5 Things You Should Always Say to Your Spouse." Simple things, like "Yes," "I'm sorry," and "How can I make you feel loved?" If everyone followed the advice in his article, most marriage problems would disappear. (Thanks to Lori at The Generous Wife for sharing this great article with her readers.)  Go read it and feel encouraged about the power you hold to bring joy to your husband and yourself.
What are you doing this week to stay turned toward your marriage? I'll admit that my marriage is going through a bit of tension this week, so I really need to decide how I'm going to put these ideas into action. Gaye
(Please note that the ideas in this post are for typical marriages going through typical problems. If you're in a toxic or dangerous marriage, please seek professional help to ensure your own and your children's safety and peace of mind.)