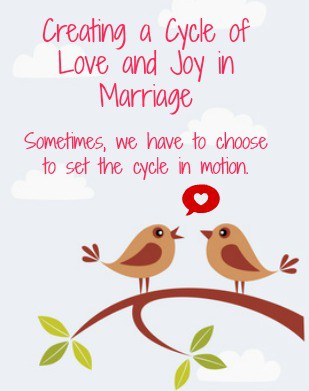 We all want to live in a cycle of love and joy – loving and being loved, knowing and being known, giving and receiving joy. But every marriage goes through times when that cycle is nowhere to be found. Times when both spouses are tense, frustrated, maybe even angry.
In those difficult cycles we tend to focus inward – nursing our grudges, cataloging our frustrations, trying to ensure that our needs are met. The problem with an inward focus, though, is that it usually prolongs the pain. The more we focus on ourselves and our own wants and needs, the unhappier we (and our husbands) become.
So when you find yourself in one of those cycles, try focusing outward instead, seeking primarily to meet his needs. Speak his love language. Go where he is, especially if he's in a difficult place. Apply the Golden Rule to your marriage and treat your husband the way you want to be treated. Over time, you're likely to find that you've replaced a cycle of pain with a cycle of love and joy.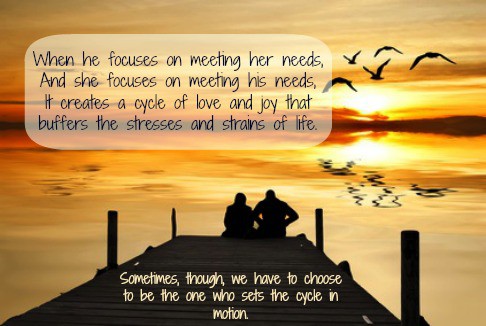 Sharing with From the Farm Blog Hop, Family Fun Friday, Let's Get Real Party, Friday Pin Fest and Turn It Up Tuesday.
Photo credit – (1) kesipun – Fotolia.com and (2) Magdalena Kucova – Fotolia.com
Add a little bit of spice to your marriage!
Get 18 Ways to Spice Up Your Marriage. Plus simple tips for a healthy life and happy marriage - right to your inbox.