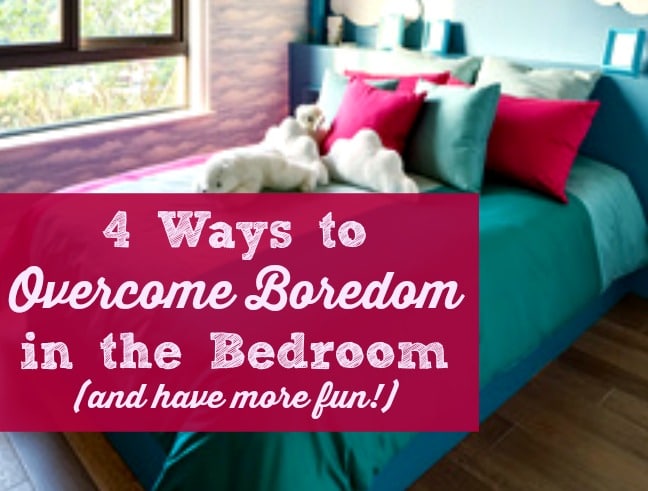 If you've been married more than a couple of years, sex may sometimes seem, well, a little bit boring. Yes, boring sex – that seems kind of ridiculous, doesn't it? And it's kind of embarrassing to admit that, isn't it, because movies, television and magazines present sex as an endless series of passionate encounters and fabulous climaxes. And really, if you've enjoyed passionate and fabulous sex at some point in the past, it's hard to admit that your sex life has become a bit dull.
(At least it's hard for me. I'd like to say that sex is always wild and exciting at my house, but that's just not the case.)
The good news is, boring sex happens to almost every husband and wife at some point (or, more likely, many points) in their marriage. And the very good news is, you can do something about it. Boredom shouldn't end up as the status quo for married sex, and when it shows up it doesn't have to be permanent. If you're feeling a bit ho-hum about sex and want to banish boredom from your bedroom, try some of these ideas for bringing back passion and excitement.
• Take a more active role in your sex life.  It's easy for women to sit back and let their husbands do all of the initiating and most of the work. The problem with that approach is that we become passive, rather than active, participants in our own sex lives. And passivity can lead to lack of interest and boredom.
So try switching things up once in a while. Initiate sex occasionally (and have a general plan in mind of what you're going to do). Regardless of who initiates, get involved – kiss him passionately, touch him, respond when he touches you, let him know what you want. Do something you did when sex was steamiest between the two of you. If you find yourself drifting into passivity, do something to get your mind and body interested and engaged.
• Practice envisioning yourself as a lover.  The roles women play – wife, mother, cook, employee, teacher, housekeeper, manager of chaos – tend to crowd out one of our most important and pleasurable roles – our husband's lover. So practice thinking of yourself as a sexual person, a lover, a woman who enjoys sex and intimacy. Use things that help you get in that frame of mind – music, clothing, scents, essential oils, lighting.
In the middle of a busy day, think about sexual encounters you and your husband have enjoyed in the past and imagine things you might do in the future. Consider emailing or texting some of your thoughts to him, to get a sexy conversation started. Strive to become conscious of your sexuality and bring your mind back regularly to the thought that you are a lover.
• Introduce something new. One of the reasons sex thrills us in the beginning is that everything is new and exciting. As we spend more time together, we fall into a routine and know exactly what to expect, which registers in our brains as "oh, here comes the same old thing."
So create some excitement again by introducing something new every now and then – a new location, a new position, a different time of day, a change in tempo, lingerie, a toy – anything that's new and a bit different for the two of you.
• Try something a bit more provocative.  New is good, but something new and slightly outside our comfort zones can be even better. In some ways this idea ties together elements of the previous three and adds one more thing – doing something sexual that takes us a bit outside our comfort zones.
I'm not talking about anything that makes you truly uncomfortable or goes against your beliefs, just something that expands your boundaries a bit. The boundaries for sexual pleasure in marriage are quite broad, but many of us impose limits on ourselves that are quite narrow. So try something you've thought you might enjoy or something you know your husband would enjoy – sometimes, doing something unexpected just for him ends up being exciting for you too. Just take a step outside your comfort zone and be a bit more provocative. Does it sound scary? It does to me. But I did this last weekend, and it turned out to be pretty successful! So acknowledge your hesitation, and then walk right through it.
(Want more ideas? Check out 6 Ideas for Living Sexier This Year, Sex is About You Too and the Sex and Marriage Resources page.)
Do you have any strategies or tips for overcoming boredom in the bedroom? Please share them in the Comments – I would love to hear from you.
(If you have significant physical or emotional health issues related to sex and intimacy, please seek the help of a physician and/or professional counselor. Also, the ideas included in this article (and the links) are intended to encourage women in reasonably healthy marriages. If you're in a difficult or unhealthy marriage, they won't be helpful to you. If that's the case, please seek professional help in your community. And if you're in a physically or emotionally abusive marriage, please contact a domestic violence organization or law enforcement agency in your community. Abuse is never the fault of the person being abused, and working on your sex life will never improve an abusive marriage.)