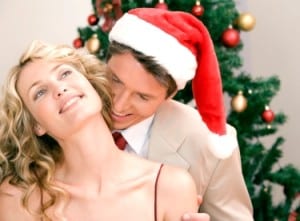 As the time available for checking items off your  "to do" list winds down, consider giving yourself and your loved ones these gifts for Christmas:
Give yourself the gift of "enough" – Very soon (maybe today!) decide that you have done enough, bought enough, planned enough, and prepared enough. Yes, some things still need to be done, but start "gearing down" on preparations and "gearing up" on enjoyment. I started doing this yesterday, and feel better already!
Give your husband the gift of your time and presence – Christmas preparations will grab all of your time and energy if you let them, and husbands often get pushed to the side. Set aside time over the next few days to enjoy your husband and let him enjoy you. Do something fun or relaxing together, and make time for sex. For added fun, break out the Christmas lingerie or download and start reading 31 Days to Great Sex.
Give your children the gift of a mother who is relaxed and having fun.  Your children don't care if everything is perfect; they want the time and attention of a mother who is relaxed and happy. So let go of some things and enjoy your children's Christmas. When my children were young, I stepped back from the Christmas dinner preparations (even though they were going on in my kitchen!) and let my mom and sisters who didn't have children do the bulk of the work, because I was determined to enjoy my children's Christmas, not spend the day in the kitchen. Did I feel guilty? Yes, but I did it anyway because it seemed like the better choice at that time in their lives.
Give your family the gift of exercise and outdoor activity. Everyone needs exercise, so why not make it fun? Go outside everyday as a family and walk, bike, hike, skate, sled – whatever makes sense in your part of the country. The kids will burn off energy, you'll burn off calories, and everyone will feel more relaxed.
A quick note about this blog – today is the 5-month anniversary of Calm.Healthy.Sexy. I want to thank everyone who has read, followed and commented over the past 5 months. I appreciate your kindness and support very much. I will be taking a few days off for Christmas, but hope to come back at the end of the month with new ideas for staying calm, being healthy, and feeling sexy in 2013.
I hope that you enjoy the presence of Christ and the love of family and friends this Christmas.Gaye