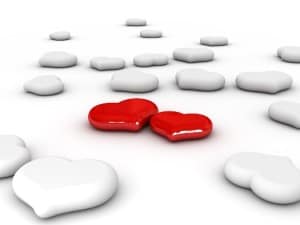 Love it or hate it, Valentine's Day is almost here. In the next two days, do one thing to make the day fun or meaningful (or both!) for your husband.  Whether you look forward to Valentine's Day or dread it, whether you feel deeply in love with your husband or barely feel like speaking to him, whether you expect to be delighted on February 14 or know you'll be disappointed, just do one thing that will speak love to him, bring joy to him, or make him laugh. If you already have a plan, great. If not, it's not too late.
 Sometimes we don't think about doing something for him, because we expect Valentine's Day to be all about us. (Guilty.)  Sometimes we're too tired from the daily grind to make a plan or carry it out. And sometimes we feel like he hasn't done much for us lately, so why should we do something special for him? I'm not saying those aren't valid issues. What I am saying is this – just set them slightly to the side and do one thing on Valentine's Day that shows your husband how much you love and appreciate him.
This list of things you could do extends from here to next week. Your plan doesn't have to be complicated or cost a lot, and it doesn't have to be conventional. It just needs to meet his need for love in a way that he can receive and enjoy it. (And it probably should include sex – just sayin').  Here are just a few ideas:
Put the kids to bed early.
Make his favorite dessert.
Make a special dinner.
Bring in pizza and some wine and relax together.
Buy some lingerie or unearth some you haven't worn for a while.
Watch one of his favorite movies with him.
Buy him a small gift for his hobby.
Light candles and play some sexy music.
Make him a playlist of his favorite music.
Buy him a book you know he'll enjoy.
Write him a note that tells how much you appreciate him.
Send him flirty or sexy texts throughout the day.
Take a shower together.
Give him a back rub.
What's your plan for Valentine's Day? What other ideas do you have for wives who still need to make a Valentine's Day plan that will bring joy to their husbands? Please share your ideas in the Comments – I would love to hear from you. I also would love for you to  subscribe to Calm.Healthy.Sexy. by email. Enter your email address in the sidebar (under Subscribe to Blog Via Email). And please follow Calm.Healthy.Sexy. on Twitter (@CalmHealthySexy), Facebook, or Pinterest. Gaye
Linked to the fabulous blogs and blog hops at We Are That Family, Messy Marriage, To Love, Honor and Vacuum, Mercy Ink, Salt Tree, Not Just a Housewife, and Fluster Buster.