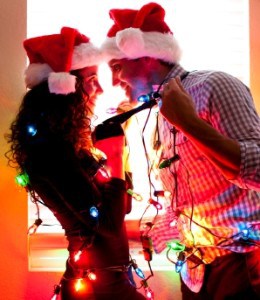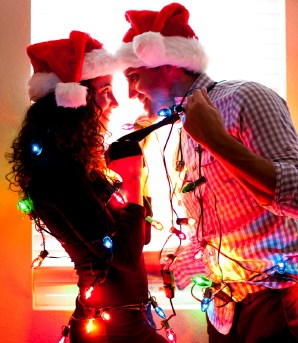 This week I've written about quick tips for enjoying a calmer Christmas and a healthier Christmas season, and today I'll share a few tips for enjoying a sexier Christmas season. My hope and prayer is that these three posts, combined with your own good ideas, will help you to feel calm, be healthy, and feel sexy during the busiest season of the year.
You probably don't have the time or energy to launch an all-out "sexy assault" on your husband during this busy time of year. Instead, try a few small tactics to keep intimacy alive and let him know that you haven't forgotten him.
Send your husband 3 or 4 sexy texts during the day.  Follow up with a little something that evening.
Ask him to rub your feet with lotion.
Give him a back or neck rub.
Light a candle in the bedroom and play some romantic music.
Wear some fun Christmas lingerie.
Go to bed at the same time most nights.
If you're just too tired or stressed to enjoy sex, do something for him as a gift of love.  Make sure he feels like it is a gift to him, not a burden to you.
Exercise every day and eat well most of the time.  Yes, I say this in almost every post (!), but the link between feeling healthy/keeping your weight under control and feeling sexy is just too strong not to repeat over and over.
Read books and blogs that promote intimacy in marriage several times a week and try to learn and apply something new from each one. I've linked to several below to help get you started, and you can find more on the Sex and Marriage Resources page.
(For great Christmas ideas, check out our Pinterest Christmas group board for dozens of gifts, recipes and fun ideas. And if you're looking for ways to save time on family meals during the busy holiday season, download a copy of our free ebook, The Busy Mom's Guide to Healthy Family Meals.)
Good reading for a sexier Christmas season
J at Hot, Holy and Humorous interviews Shelia Wray Gregoire about "31 Days to Great Sex" – this interview doesn't just promote the book; it also includes a lot of good information about sex and intimacy in marriage.
Lori at The Generous Wife writes about the importance of touching and enjoying your husband's body.
As an advocate of sexting with your husband, I love this post by Adrienne at The Mommy Mess – I Sext My Husband – and Other Marriage Tips.
If you have a hard time understand all the fuss about sex and intimacy in marriage, or you know a woman who does, this article by Julie at Intimacy in Marriage – It's Not Just About the Sex, Is It Guys? – provides some powerful insight into what sex means to husbands.
Do you have a tip for keeping things sexy during this busy time of year? I would love for you to share it in the Comments. Gaye