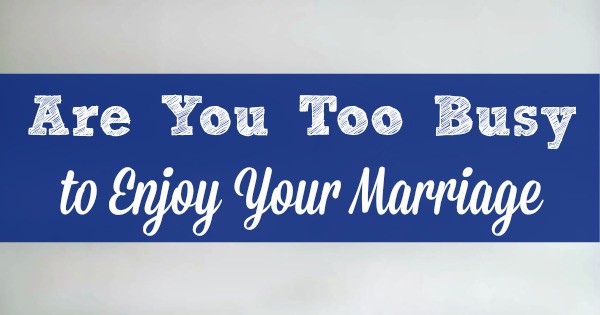 See if this sounds familiar to you –
• Anne and her family live and breathe soccer. Her three children play soccer year round, on different teams and in different leagues. Her family juggles practices and games every day of the week, in addition to work, school, and church responsibilities. Anne and her husband haven't been on a date in over a year. They rarely do anything fun, not even sit down and watch a movie together. And most of their conversations revolve around figuring out how to manage all of their responsibilities.
• Clare and her husband both hold down stressful jobs. They're constantly juggling all of the demands on their time and negotiating how to get things done. They rarely connect in a fun and positive way, and find that they're irritated with each other much of the time.
• Toni homeschools her children and manages her home, while her husband works long hours to support the family. All of their time outside of home and work goes to their church. They both feel exhausted most of the time and tend to collapse into bed at the end of the day – without having connected in any meaningful way.
Do you see yourself at all in Anne, Clare or Toni? Can you identify the thing they have in common?
To me, the thing they have in common is that they aren't enjoying their marriages. Because their lives are just too busy, and the urgent things are drowning out the important things.
Are you too busy to enjoy your marriage? Are you headed in that direction? If so, it's time to stop, assess what's happening, and make a plan.
You can't let it slide until "things slow down." Things rarely slow down on their own. If anything, they get busier and more hectic.
Unless you decide to slow them down and to prioritize your marriage (and your health and overall peace of mind).
Because things will never slow down unless you decide to make them slow down.
If you're ready to move in that direction, and to begin creating a calmer, saner life that makes your marriage a priority, here are three steps you can take to get started:
1. Sort out the problem in your own mind. Take some time to work through the problem and understand what's happening. What's causing the most stress for you and for your husband? What's effect is it having on your marriage?
If you could change one thing, what would it be?
Set aside 15-30 minutes to do this. You may need to do it more than once. Write down your thoughts and the answers to these questions. Pray about it. Put it aside for a day or two, then come back to it. See if you want to add or change anything.
2. Talk to your husband. Obviously, this isn't a problem you can solve on your own. It's going to take the two of you, working together, to create a life and a schedule that allows both of you to enjoy your marriage.
So talk to your husband. Tell him what you've been thinking. Tell him that you'd like to set aside time for the two of you to talk about it. He may be very receptive to this. (My husband would be, because he hates being overcommitted and running from one thing to another all the time.)
Or he may not be receptive. He may like the busyness, or may not think that there's another way to manage things at this stage of life.
Either way, share what you've been thinking. Let him know that your goal is to have more fun together and to strengthen your marriage. Ask him what he's thinking. Consider praying about it together, if that's something the two of you are comfortable doing.
(If the two of you are in agreement and can move ahead to make some changes, do it. If he's not enthusiastic right now, think about what you could do on your own to get the ball rolling. Continue to pray about it, and bring it up occasionally. If he sees positive results for your marriage, he may get on board.)
3. Make one change. Decide on one thing you could do fairly easily to create quick results – something that will pay off quickly for your marriage without turning your life or your schedule upside down. Something that both of you will enjoy and consider a positive change.
For example, my husband and I drink coffee in bed together for 20-25 minutes every morning. It gives us a chance to talk and connect before all the busyness of the day begins. Even if we don't get a chance to talk again until the end of the day, we know that we've connected and enjoyed each other's company that morning.
Other couples take a walk together every night after dinner, plan a weekly coffee date, or shut off their devices and spend time together before they go to bed. I read recently about a husband and wife who get in their big hammock at least once a week and spend time together, just talking and relaxing!
Decide on one change that works for both of you and will benefit your marriage – and go ahead and make it this week.
And if you're not sure what to do, think about this great idea from Rose, who shared what she and her husband are doing to make time for their marriage. "My husband and I actually started down the road of 'too busy for our marriage' when our kids were younger. We decided to treat our marriage like one of our children. We scheduled in time for us just like we would for one of our kids. It was my husband's idea and I can tell you–it has worked wonders for us." I love that!
If your schedule is packed, your life feels stressful, and your marriage seems disconnected, it will take some time and effort to turn things around, and these three simple steps won't be the only things you'll need to do. But you can use them to get started, then build on them over time.
If you need more ideas and strategies:
On the blog
Ebooks, guides and checklists (Enter the code FRIEND25 at checkout to save 25% off your entire order)
Let me know how these ideas work for you and if they help you enjoy your marriage more – leave a comment or email me at [email protected] I'd love to hear from you.