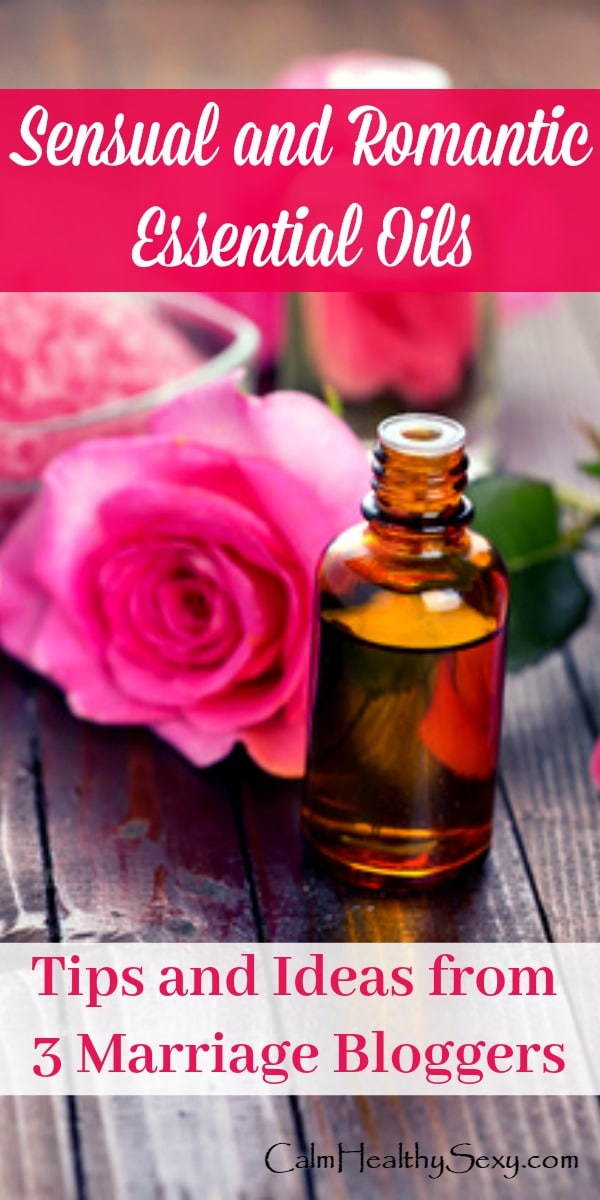 It probably comes as no surprise that more women come here to read about essential oils for romance, love and intimacy than any other topic. And I understand why, because many women are struggling to feel sexy, to feel interested in sex, and to strengthen sex and intimacy in their marriages. They just feel worn out – the pace and complexity of life in the 21st century has worn them down and tamped down (or even killed) their libido.
And many of them are looking for a solution, something that will help them create the kind of sexy, romantic marriage they'd love to have, without requiring energy and effort they don't have to give. And they've heard some things about romantic essential oils that may boost love and libido and want to learn more.
(For some history and background on romantic essential oils, please check out Essential Oils for Sex and Intimacy.)
So in this article, I want to share some ways to experiment with essential oils for romance – these are things you can try fairly easily, including essential oil blends and applications you can try to see if they make a difference for you. I'm also sharing  links to some of my favorite marriage bloggers who've written great articles on essential oils for romance, love and libido – because I still have a lot to learn about romantic essential oils for sex and intimacy and I trust the things these women have to say.
Romantic Essential Oils and Blends
Figuring out which essential oils or essential oil blends may help you feel relaxed, sexy or in the mood for sex can take some trial and error. If you don't already have some oils on hand that you can use to experiment, borrow some from a friend to see which ones appeal to you. Or try the samplers at the essential oils display in a health food store or healthy grocery store. That way you won't waste money buying oils you end up not liking. (This post contains Amazon affiliate links.)
If you want to make your own blends, you'll need small bottles for mixing and storing them. I use these small glass bottles and these roller bottles, which I especially like for easy application. (I also make a stress-reducing oil blend that I put in a roller bottle and keep in my purse for high-stress days!). You'll also need a carrier oil for dilution, like fractionated coconut oil or sweet almond oil (any light, neutral oil that's safe to apply to the skin is fine).
Remember that essential oils are powerful and a little goes a long way – start adding with just a couple of drops of each oil to the carrier oil when making a blend and adjust from there. And test for skin sensitivity in a small spot before using each blend. Ready to give it a try? Here are some romantic blends you may like:
Ylang Ylang and Citrus (lemon, wild orange or bergamot) – Ylang ylang is considered one of the top romance oils for women. It has a very strong floral scent, and a little definitely goes a long way. I like to soften its scent with a citrus scent.
Whisper Blend – This is DoTerra's romance blend for women. It contains bergamot, ylang ylang, patchouli, jasmine, cinnamon, rose flower and other essential oils, diluted in fractionated coconut oil. Although it's already diluted it's quite strong, and I dilute it with additional carrier oil.
Sandalwood, Jasmine and Citrus (bergamot or wild orange)
Sweetheart Blend – Wild Orange, Lavender and Ylang Ylang
Passion Blend – I haven't tried this one yet, but it's on my list. It's a spicy blend that contains cardamom, cinnamon, ginger, clove, jasmine and other oils, diluted in fractionated coconut oil.
Sandalwood, Ylang Ylang and Bergamot
Grapefruit or Wild Orange, Sandalwood and Clary Sage
Your own blend – There is no right or wrong when it comes to choosing and blending oils. Find the ones that make you feel calm, sensual, or energized – or whatever you need to boost your libido and promote sex and intimacy in your marriage.
Essential Oils for Romance – Applications
Apply the diluted essential oil blend to the skin. Apply to your wrists, neck, lower abdomen or any place that feels sensual to you. (Avoid delicate tissues or sensitive areas.)
Diffuse into the air. Get an inexpensive diffuser, add a few drops of the oils of your choice, and make your bedroom or any room smell sensual and romantic.
Make a linen blend. Put filtered or distilled water into a small spray bottle. Add a few drops of the oils of your choice and lightly spray your sheets and pillows.
Tips from Top Marriage Bloggers
Two marriage bloggers I respect and admire have also written about essential oils, and I encourage you to check out their articles:
The Best Essential Oils for Libido by Sheila of To Love, Honor and Vacuum. Sheila is one of the top Christian marriage bloggers. She writes for women on almost every subject that affects sex, intimacy, communication and women's health – all with a focus on building and strengthening marriages, and in this article she shares information about specific oils that may help women.
Love, Romance and Essential Oils by Bonny of Bonny's Oyster Bed. Bonny is the expert among Christian marriage bloggers when it comes to low libido in women. Her blog is focused on encouraging low-libido women to uncover and embrace the fabulous sexuality within them, even though it seems to be hidden or entirely absent. In this post she focuses especially on different ways to use essential oils to enhance libido.
Turn Your Bedroom into an Oasis, also by Sheila of To Love, Honor and Vacuum. This article includes tips about essential oils and massage candles, as well as other ideas for
Have you tried using essential oils for romance? What has worked for you?