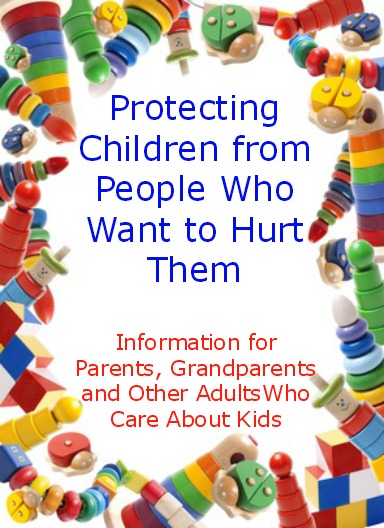 I know this isn't a typical post for this blog. But, if you're a mother, grandmother or other woman who is interested in keeping children safe, and particularly in protecting them from sexual abuse, please stick with me for just a few minutes. I promise to keep it short and to provide links to several excellent resources.
The difficult topic of child sexual abuse has been on my mind for several weeks, for a couple of reasons. First, I learned in the news recently that a former youth worker in a prominent evangelical church was just convicted of sexually abusing children in his church. As was revealed at his trial, at least one pastor in the church knew of the abuse when it happened, but didn't notify authorities. So the offender simply moved from that church to other churches, abusing children at each one.
Second, also in the news recently, a prominent Christian magazine created a firestorm on social media when it provided a convicted sex offender – a former youth pastor – with a platform to share his story. Because his article minimized the fact that he abused a teenage girl in his youth group and failed to show any real repentance or acknowledgement of the tremendous pain he caused the victim, her family and his church, the magazine was roundly criticized on Twitter, Facebook and a number of Christian blogs. It finally removed the article and apologized for publishing it. When I think of the children these men abused and the terrible pain and devastation they and their families have suffered, it almost overwhelms me.
These stories reminded me of some things I already knew but didn't want to acknowledge – that sexual abuse of children can happen anywhere, even in the church and other places that should be safe for them; that most sexual predators don't look like creepy guys hanging out on the street corner, but instead look like men (and women) who go to church, work with Scouts, coach soccer teams, and live in our neighborhoods; and that all children are at risk, if adults don't take action to protect them.
It seems overwhelming, doesn't it? The thought that we might know someone who wants to harm children in such a terrible way – it's almost beyond comprehension. For those of us who are just average people – mothers, grandmothers, and others who love children and want to protect them – it seems beyond us, like it's something we don't have any power to prevent. Fortunately, though, that's not the case. Regular people can and do take steps to prevent children from becoming victims of sexual predators. And the first step is knowledge. Simply learning about how predators think and operate, and about steps people and organizations can take to stop them, goes a long way in cutting off their access to children and their ability to harm them.
Here are three articles that helped me begin to understand some of the important issues related to this devastating problem. All three are written by Boz Tchividjian, an attorney, former child sex crimes prosecutor, founder of Godly Response to Abuse in the Christian Environment (GRACE), and a grandson of the Reverand Billy Graham. His blog and the GRACE Web site contain more articles and resources, if you're interested in additional reading.
Sex Offender, Faith Communities and 4 Common Exploitations
5 Common Characteristics of Child Sexual Offenders:  Eliminating the Edge