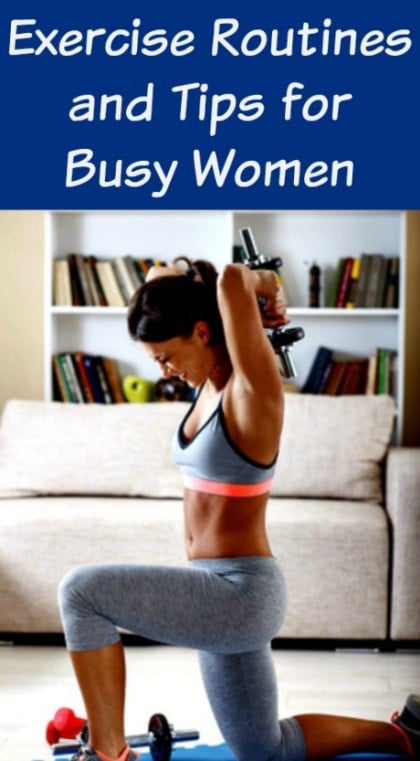 Have you set a goal to get healthy, lose weight or just live a calmer, saner life this year? Then you probably know that you need to figure out ways to get up and move regularly. You can call it exercise or working out or "sweatin' to the oldies" – it really doesn't matter, as long as you do it! Which, of course, raises the age-old question for busy women – What should I do and how can I make time for it? Here are some tips, tricks and routines to help you get started.
What to do. Move it!
Move your body for at least 30 minutes on 5 or more days of each week.*  Do something that increases your heart rate moderately and works up a bit of a sweat. Do something you enjoy – walk, bike, play outside with the kids, do Zumba, take an exercise class, work out to a video – whatever works for you.
Spend less time sitting. Move as much as possible throughout the day. If you have a sedentary job (like I do) get up and move often. I try to get up and walk around my office building twice a day, as well as walk for 20 minutes at lunch. When you're at home, do as many tasks as possible while standing or walking. Plan your daily activities in ways that make you walk more, not less. And limit the time you spend watching TV and other sedentary activities.
Strengthen your muscles. Two or three days per week, do exercises that build muscle strength. This is my least favorite kind of exercise, so I struggle to do it consistently. This year I'm forcing myself to do it 3 days a week, right after I get home from work. You can do it at a gym, or as part of a fitness class or workout, or at home with little or no equipment. I use just a few inexpensive handweights. If you don't know how to get started, find an exercise routine or program from a reputable source, like Prevention or Women's Health.
Stretch your muscles several days per week. The expert advice on stretching is somewhat mixed; some people advise stretching as a way to warm up before aerobic exercise, while others recommend stretching after exercise, when your muscles are warmed up. Do a bit of research to find stretching exercises that work for you. Or start with this Stretching 101 Guide from Prevention.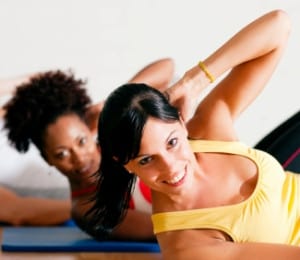 How to do it. Make it a Priority!
Break it up.  If you can't exercise for 30 minutes at a time, break it into 2 15-minute or 3 10-minute segments.
Fit it into your daily activities. Find ways to work exercise into your day. This is the key  for busy women! If you're sitting, get in the habit of thinking, "Could I be moving instead?" Walk while your children are at sports practices or lessons. Walk during your lunch hour. Do strength training or flexibility exercises while watching television. Wear a fitness tracker or pedometer and accumulate steps throughout the day (work up to 10,000 per day). When shopping, park in a central location and walk to several stores.
Do it together. Walk with your husband after dinner. Ride bikes or play outside with your children. Enlist co-workers to walk or workout with you before, during or after work. If you're at home with young children, find other moms and walk or workout together.
Find creative ways to be active. Find strategies for incorporating exercise into you busy schedule, such as 25 Easy Ways to Fit in 10 Minutes of Exercise or The 25-Minute Office Workout. Develop some active interests with your husband or family, activities that keep you moving while you're having fun together.
In order to live the kind of calm and healthy life many women crave, we need to get up and move every day. So if your goal is to have live that kind of life this year, start moving today and keep it going throughout the year!
How have you incorporated exercise or physical activity into your life? Please share what you've been doing in the Comments. I would love to hear from you.
Please Note – If you have any health problems or concerns, talk with your doctor before beginning an exercise program. According to the Physical Activity Guidelines for Americans, most adults can participate in moderate physical activity, but if you have any questions or experience any problems, talk with your doctor before beginning or continuing.
*More detailed physical activity recommendations are available from the Physical Activity Guidelines for Americans.
Healthy Life, Happy Marriage
Get 15 Ways to Connect with Your Spouse - When Life Gets Crazy! Plus simple tips for a healthy life and happy marriage - right to your inbox.