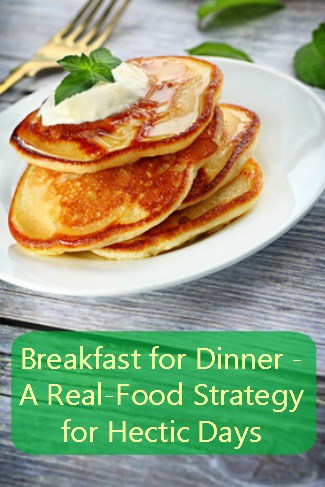 You know, it's great to have a healthy, delicious meal in the Crockpot when dinner time rolls around.  And it's great to have five or six real-food meals in the freezer, ready to ease your dinner dilemma on a crazy busy day.  And it's really wonderful to have a pantry full of ingredients that allow you to throw together a wholesome dinner in minutes. But you know what?  Some nights, not a single one of those things is going to happen at my house.  Just not going to happen.
Maybe I forgot to put something in the Crockpot.  Maybe I'm out of groceries.  Maybe the day fell apart and nothing went as planned.  Or maybe I'm completely disorganized and should not be trusted with the responsibility of feeding a family!  Whatever the reason, sometimes dinner time rolls around and you just don't have a plan.  But don't despair. For all of those evenings when a trip through the drive-thru for a bag of burgers and fries is looking like your only option, here's a better one – breakfast for dinner.
It makes sense, doesn't it?  You're tired, and people are hungry.  Breakfast for dinner is easy, and almost everyone loves it.  And most breakfast foods require just a few staples, so you can probably make a breakfast-dinner with things you have on hand.  And, as a bonus, many breakfasts can be make with all (or primarily) real food ingredients. If you find yourself having a no-dinner-plan emergency, here are some breakfast-for-dinner meals that can help:
Scrambled eggs, whole wheat toast with butter and jam, fresh fruit
French toast made with whole wheat bread, uncured bacon, fresh fruit
Make-Your-Own Oatmeal Bar – Cook a big pot of oatmeal.  Put add-in ingredients, like raisins, other dried fruit, nuts, coconut, maple syrup, and peanut butter, in small bowls.  Let each family member create his or her own bowl of oatmeal.  Serve with fresh fruit.
Baked oatmeal – I like this recipe from Juggling Real Food and Real Life.  Serve with whole wheat toast and fresh fruit.
Whole wheat pancakes – I love this recipe from Eat at Home Cooks.  I make it with 1/2 white whole wheat flour and 1/2 unbleached regular flour.  Serve with uncured bacon and fresh fruit.
Fritatta – You can cook a fritatta (an open omelet) on the stove or in the oven (like this Oven Fritatta with Vegetables).  If you have time, add a few sauteed veggies.  If not, just add grated cheese.  Serve with whole wheat toast and fresh fruit.
(Want more quick and healthy meal ideas? Download my free ebook – The Busy Woman's Guide to Quick and Healthy Meals.)
So, the next time your dinner plan – or your entire day – falls apart, don't think "Drive-thru, here we come."  Instead think, "Wouldn't breakfast taste good tonight?" Do you ever make breakfast for dinner?  What are your favorite breakfast foods that can become dinner on a hectic day?  Please share your ideas in the Comments – I would love to hear from you.