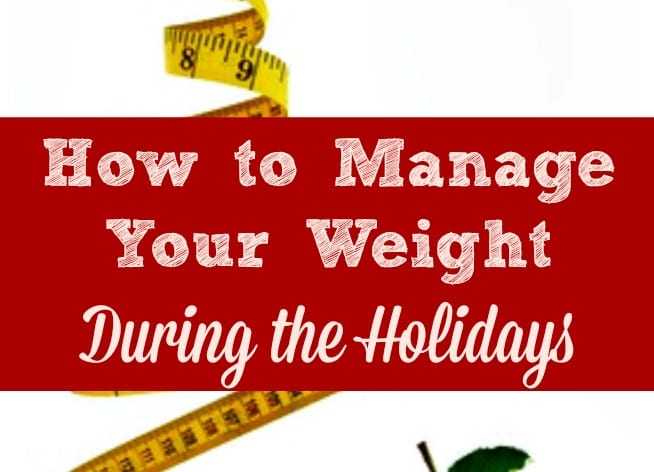 Well, the "eating season" is upon us. The number of opportunities to overeat will soar between now and Christmas, making the next few weeks the toughest time of the year for women to lose weight or even maintain their current weight.
During this busy and calorie-laden time of year, weight loss is going to be very, very tough. (However, if you're on a good weight loss trajectory and want to keep it up, go for it!)  For most of us, the best strategy is going to be to maintain our current weight over the next few weeks. That's the strategy I'm planning to use – I want to enjoy holiday meals and treats, but don't want the scale to register 5 extra pounds by the end of the year!
Whether you're trying to lose some weight or just maintain, here are 4 ways to manage your weight during the holidays:
 Avoid an "all or nothing" mentality.  It's easy to think of this season as a lost cause in terms of diet, nutrition and weight management. But it isn't. Most days will be normal (albeit busy) days. Christmas dinner will come around once (maybe twice!), you'll attend several Christmas functions, and you'll probably make some Christmas cookies or other  treats. But on many days you'll be able to eat normal healthy meals and snacks. So don't write off the entire season by assuming you'll be eating "badly" for 5 straight weeks! Don't even write off Christmas week as a "loss." Plan for 10-20% "holiday eating" and 80-90% normal eating.
Develop an intentional approach to eating.  One problem with the "eating season" is that foods you don't want to eat often present themselves unannounced. For example, Thanksgiving "turkeys" made with Oreos, candy and icing have been known to show up in my office. The same with decorated cupcakes from a grocery store bakery. These things are cute and fun, but they aren't delicious and I don't need to be eating them. And you don't have to eat that sort of thing either – the packaged cookies at your child's Christmas party, your aunt's candy that you've never really liked, a tired buffet at a holiday party – stay away from them. But, I do want to eat my family's favorite Christmas cookies and some pumpkin pie (actually, quite a bit of pumpkin pie!). And you may want to eat your mother's famous dressing, your husband's special fudge, or your friend's fabulous cookies. So be intentional – choose the things you really want to eat because you enjoy them or they evoke special memories, and leave the other stuff on the counter, table or buffet.
Plan for problems.  Most women will be busier than usual over the next few weeks – shopping, cooking, cleaning, decorating, traveling and shuttling children to Christmas activities. Opportunities to eat well will go into hiding, while opportunities to eat poorly will abound. So develop plans to address problems before they arise. If you'll be out shopping for an entire day, how will you avoid the low blood sugar that sends you to the nearest drive-thru window? If your family will be traveling by plane or car, how will you avoid relying on airport food or fast food restaurants for all of your meals and snacks? If you'll be attending your neighbor's dessert drop-in, how will you avoid eating an entire meal of desserts? Use strategies such as stocking up on healthy snacks, prepping healthy foods before you need them, and packing a cooler with fruit, snacks and water for trips and long days of shopping and activities. And when you're at home, rely on quick, simple and healthy meals. My free ebook, The Busy Woman's Guide to Quick and Healthy Meals, can help.
Move your body.  One of the best ways to manage your weight during the holidays is to move your body regularly. You're going to be eating more calories over the next few weeks, and moving your body helps burn them rather than store them. So even though time is short and your to-do list is long, keep moving. Take your family to a walk-thru Christmas lights display, walk as much as possible while you're out shopping, plan an active date with your husband, go ice skating, take the children to a park or playground – anything that helps you stay active. Or crank up the intensity of your activity. I'm adding a little bit of jogging to my normal walking routine, just to increase the amount of calories I burn. As a bonus for your efforts, all that activity will help reduce stress and strengthen your immune system too!
Do you have a strategy that has helped you manage your weight during the holidays? Please share it in the Comments – I would love to hear from you. And I'd love for your to download my free Christmas ebook – The Christmas You Really Want – 75 Healthy Ideas for Your Life and Marriage this Christmas.