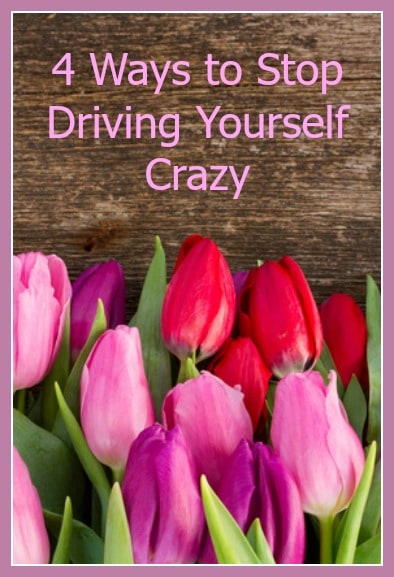 For most families, spring is one of the busiest times of the year. Which means, for most wives and moms, that schedules and to-do lists that already seemed crazy are about to get even crazier. At a time of year when many women are longing to slow down and enjoy the sun and warmer weather, the list of end-of-school activities, sports, recitals, graduations, and other rites of passage just about ensures that "slowing down" and "enjoying" won't be anywhere to be found.
For many years, I just assumed that I couldn't change the trajectory of spring and other hectic times of year. The back-to-school, Thanksgiving to Christmas, and end-of-school seasons seemed, almost by definition, to involve mountains of stress and craziness.  I just didn't see any way around it. But the older I get, the more I wonder – "Does it really have to be that way?"
Listen, I know that spring and the end of the school year are hectic times for most families. But do they have to make us feel like crazy women, running from one activity and commitment to another for weeks on end? I don't think they do. In fact, I'm convinced that we can take steps to slow things down maintain some sanity in our lives and the lives of our families. If you're hoping for less stress and more calm over the next couple of months, here are 4 things you can do to stop driving yourself crazy:
Set short-term priorities. Here's something we often ignore – our minds, bodies and schedules can only handle so many activities before they start to break down. If seasonal activities are packing your schedule, you may need to pick and choose the ones that most deserve your attention. And at the same time, you may need to let go of some of your regular activities for a little while. For example, if your son or daughter is graduating from high school, the activities leading up to that event need to take priority this year. And for those with younger children, a dance recital, soccer tournament, or end-of-school trip may need your time and attention. But every activity doesn't need your time and attention, and some things that regularly receive one or the other may not be able to have them for a couple of months.
Prioritize your health and your marriage. Regardless of what's happening over the next two months, you need and deserve to eat well, get enough sleep, exercise regularly, and take some time to slow down and breathe deeply. And you and your husband need and deserve time to connect, to talk, and to enjoy each other's company. No series of springtime or end-of-school events is worth letting go of those things. So make time for them and put them on your schedule, even if it means letting go of other things that seem important.
Learn to say no. A big part of setting priorities is saying no or, at least, not now. And if you want to keep from driving yourself crazy, you have to learn to say it. So recognize that you can't coordinate every class party, decorate for the prom, run concessions for the soccer tournament, and organize the youth cookout. You just can't do it. Instead, decide what's most important to you and your family and take on that task. Then say no to the rest.
Learn to care less about what other people think. One of the reasons we don't say no is that we want people to like us. And one of the reasons we try to do everything is that we want people to think highly of us. After all, who wants to be the mom who didn't take her daughter to every birthday party, youth event and extra dance practice. Or let her son participate in four out-of-town soccer tournaments over the next six weeks. Well, actually, you do – if you don't want to drive yourself crazy and do want to enjoy some semblance of a sane family life over the next couple of months. So just stop caring what people think about those kinds of things, because what they think really and truly does not matter.
How are the next couple of months looking for you and your family? And what are your strategies for staying sane and not driving yourself crazy during hectic times of the year? Please share them in the Comments – I would love to hear from you.
Sharing with Family Fun Friday and Motivation Monday.