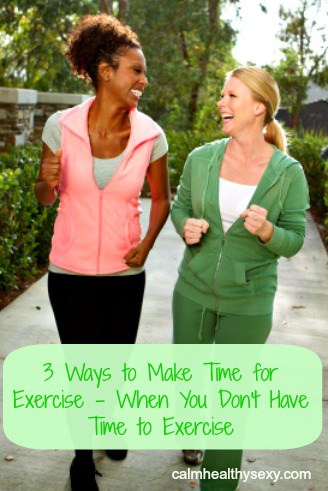 If you're like me, one of the biggest barriers you face when it comes to exercise is lack of time. Your schedule is already packed with activities, and the thought of adding 30 or 40 minutes of exercise, 4 or 5 days a week, seems impossible. You want to fit it in, but you're having a hard time making it all work. Believe me, I know the feeling.
So even though I believe strongly in women taking time for themselves (which should include taking time for exercise) and saying "no" to activities that suck up vast amounts of time and energy, I also know that life isn't always convenient or accommodating. Sometimes, we have to work with what we've got! For that reason, I want to encourage you to make exercise do "double duty" for you, by integrating it into the tasks and activities you're already doing (or need to do!). Here are 3 ways to make time for exercise in your busy life – when you don't have time to exercise:
Turn tasks that need to be done into "exercise."  My husband and sons are cutting and splitting tons of firewood, the result of losing a large oak tree on our property this winter. Last week I realized that it made no sense for me to be doing a "strength training" workout in the house, when piles of cut and split wood needed to be moved! So instead of lifting hand weights, I loaded and unloaded wood. Dozens of other household and yard tasks can be turned into "exercise" too. Now that spring is (almost) here, yards and gardens are a mess and need to be cleaned up. Houses need to be "spring cleaned." All of these tasks can be done vigorously enough to turn them into exercise, allowing you to derive a double benefit for your efforts. This strategy can work in the work world too. For example, turn small meetings (with 1 or 2 other people) into "walking meetings" when the weather is beautiful, or take 20 or 30 minutes of your lunch hour to walk.
Turn "waiting" into "exercise."  One of the biggest time killers for moms is waiting – waiting for music lessons, Scouts, soccer and other activities to end. Instead of sitting in your car, standing around with other moms or running errands while you're waiting, use that time to walk! Be the mom who encourages other moms to walk and catch up with each other. Or use the time to clear your head by walking alone. If your younger children are waiting with you, use the time to walk or play outside games with them.
Integrate "exercise" into things you want to do.  So far we've talked about getting an "overtime effort" from exercise that's part of things you have to do. But you can also add "exercise" to the things you actually want to do. For example, if you want to spend time relaxing with your husband, add an active component to it. My husband and I sometimes walk on a trail along the river in our city, then go out for a casual dinner. We have fun walking and talking (and you know men are more likely to talk when they're doing something else too!), then enjoy dinner together. If you want the family to enjoy a fun activity on the weekend, get everyone out of the house and moving. Go hiking, biking, or skating – or play soccer in a local park. If you want to spend time with a friend, take a walk together before going out for coffee or lunch. Be creative and find ways to make "exercise" work overtime in the fun parts of your life.
Have you found ways to integrate exercise into your life or to make it "work overtime" for you? Please share your ideas in the Comments – I would love to hear from you.
Healthy Life, Happy Marriage
Get 15 Ways to Connect with Your Spouse - When Life Gets Crazy! Plus simple tips for a healthy life and happy marriage - right to your inbox.