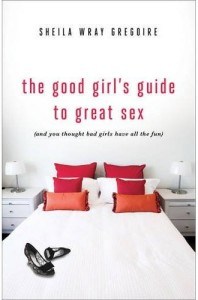 Just a reminder that I'm giving away of "The Good Girl's Guide to Great Sex" by Sheila Wray Gregoire to two people who follow Calm.Healthy.Sexy. by email.  This is a wonderful book for any married woman who wants to enjoy a great sex life with her husband.  You can win a copy one of two ways.  If you already subscribe to Calm.Healthy.Sexy. by email (i.e., you receive an email when I post a new article), just leave a comment on this post (or any post) between now and January 6 and say that you'd like to be entered in the giveaway.  If you follow by RSS feed, that counts too – just let me know in your comment.  If you don't yet subscribe by email, just sign up between now and January 6 by entering your email address in the sidebar (under Subscribe to Blog Via Email).  One current email subscriber and one new subscriber will win a copy of this great book.
If you have a friend who might like to win a copy of the book, please send her the link to this post.  The purpose of this giveaway is to thank those who are already following Calm.Healthy.Sexy. and to encourage new followers, so this is a great time to invite a friend to join the conversation.
And remember, there's still time to enjoy some fireworks before the year ends!  Thanks for your support of Calm.Healthy.Sexy. in 2012.  I look forward to sharing some ideas and hearing what you have to say about living a calm, healthy, sexy life in 2013.
Gaye
Pin It