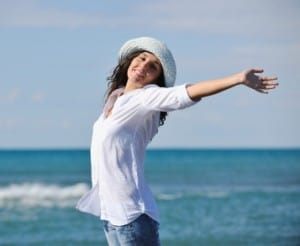 Today's strategy for living a calm, healthy and sexy life  in 2013 is to take some time for yourself.  If you're a wife and mother who takes good care of everyone else but doesn't take good care of yourself, I encourage you to make time for yourself a priority this year.
Is that selfish?  No.  (Well, it could be, but I doubt that most CalmHealthySexy readers are at risk for taking too much time for themselves!)  Taking time to refresh and recharge your body, mind and spirit is no more selfish than going to the doctor, spending time praying, talking with a friend about a problem, exercising, or eating healthy food.  All of those things require some expenditure of time and/or resources, but they're important for maintaining physical, mental or spiritual health.  Taking time for yourself also requires time, and sometimes resources, but it too is important for maintaining your health.
So, this year, enlist the help of someone (ideally, your husband) or several people (your mom, sisters or friends) and take some small, medium and large time for yourself.
Small – Take 30 minutes or so every day, or at least several days a week, and give yourself a break.  If you're at home with young children, schedule nap/rest time for them every day, and use at least part of that time as a break for yourself.  Ask your husband to watch the children, or switch off with a friend.  Read, exercise, take a walk, work on a hobby – whatever will recharge you or help you relax within a short period of time.
Medium – About once a month, take a day or half-day for yourself.  Schedule it with your husband – perhaps you can each take a day off every month.  (And keep in mind, unless your husband is truly irresponsible, he's perfectly capable of taking care of your children for a day.  He may not do it your way, because he's a dad not a mom.  Let him do it his way, say thank you, and don't critique his efforts.)  If you can't work it out with your husband, arrange something with a friend or relative, and offer to do the same for her.
Large – Once a year, take a weekend for yourself.  It could be a trip to a women's conference, a shopping trip with your sisters, or a get-together with college friends.  Just make sure it's something you'll enjoy and find relaxing.  For example, as an introvert, I wouldn't feel relaxed after spending the weekend with 500 women at a retreat.  It might be a great weekend, but it wouldn't be rejuvenating for me.  But maybe you're an extrovert and would love the retreat, but would find my weekend trip with my sisters to be a bit dull.  Just pick something that will allow you to recharge and come home ready to take on the challenges of life with renewed energy!
Have you been able to take time for yourself?  If so, what strategies have worked for you?  I would love to hear from you – please share your ideas in the Comments.  I also would love for you to  subscribe to Calm.Healthy.Sexy. by email.  Enter your email address in the sidebar (under Subscribe to Blog Via Email).  You'll receive an email when I publish a new post, nothing else.  And please follow Calm.Healthy.Sexy. on Twitter (@CalmHealthySexy), Facebook, or Pinterest.  Gaye
Linked to the fabulous blogs and blog hops at I Gotta Try That, Flamingo Toes, I Heart Nap Time, Nifty Thrifty Things, Quite the Blog, Or So She Says, Be Different Act Normal To Love, Honor and Vacuum, Blissful and Domestic, Shaken Together, What Jean Likes, Today with the Tennerys, Oh so Amelia and Twinkle in the Eye.
Pin It