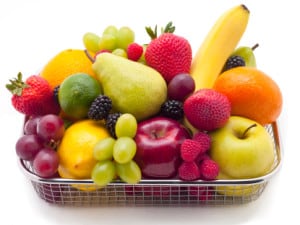 Welcome to Strategy #2 of 12 Strategies for a CalmHealthySexy 2013.  If you're striving to take great care of your body this year, consider adopting a diet that includes many whole foods and few processed foods. Here are a few whats, whys and hows to help you get started. (For more information on eating whole foods, check out the resources below.)
What? Whole foods are foods that we eat in their natural or near-natural form. Generally, they aren't manufactured or processed, and ingredients haven't been added or removed. So, for example, potatoes are a whole food, but packaged scalloped potatoes are not. Chicken breasts are a whole food, but breaded chicken nuggets are not. You get the idea. Sometimes it's confusing – a food that's considered "whole" by one person may be considered "not whole" by another. And some people use the term "real foods."  I'm not interested in arguing over definitions, and I doubt you are either. For me, the goal is to eat foods in as natural a form as possible, as often as possible.
Why? Whole foods contain more of the ingredients our bodies need, including vitamins, minerals, phytochemicals, healthy fats, protein and fiber, and less of the ingredients they don't need, including added fats and sugars and artificial ingredients. In addition, whole foods contain hundreds of nutrients, some as yet unidentified, in the proportions that nature intended. Whole foods also tend to be lower in calories than their processed counterparts, although not all whole foods are low in calories. Nuts, for example, are high in calories, but also full of nutrients.
How? Here are two approaches you can take to eating more whole foods this year:
The All-in Approach - With this approach, you jump right in, clean out and re-stock your kitchen, and begin eating all (or almost all) whole foods. Most people would find this very difficult, but for some people a 100% commitment works best. If you want to give this approach a try for a month and then assess how it's working, consider joining the 30-Day Whole Foods Challenge at The Empowered Momma, from January 7 – February 7. This will be a great opportunity to test out whole foods eating while receiving how-to information, support and encouragement.  (She's already posting tips for getting ready and getting started.) I'm going to take part in this challenge, and even though I'm already eating a lot of whole foods, I still expect the 100% approach to be challenging. But, by making just a 30-day commitment, you and I both can try it out and then reevaluate.
The Gradual Approach - With this approach, you begin by making one or two changes and allowing yourself (and your family!) time to adjust to them.  Then you make another change or two and allow those changes to become habits.  This is probably the best approach for most people, especially women who cook for a family.  Here are just a few examples of the kinds of changes you could make:  serve fruit rather than sweets for dessert, cut up vegetables and encourage family members to snack on them, serve grilled or baked chicken rather than breaded chicken tenders, reduce the amount of fast food your family eats, eliminate or limit sodas and other sweetened drinks, substitute whole grain products for processed products (e.g., real cooked oatmeal for sweetened instant oatmeal), package nuts or dried fruit in small containers and take them on outings or trips for easy snacks, or make one meal a day a whole foods meal.
The key to both approaches is preparation and planning.  Eating whole foods consistently does require more time and effort than eating processed foods.  But, by planning ahead, making a menu, organizing your pantry and refrigerator, cooking in quantity, and preparing healthy snacks in advance you can work it into your busy routine.  Check out the resources below for more ways to make a whole foods diet work for you and your family.
Want to learn more? Many wonderful Web sites, blogs and books provide excellent, in-depth information about whole foods. Here are just a few:
Blogs
Real Food by Nina Planck
Food Rules by Michael Pollan
What to Eat by Marian Nestle
Please share your strategies for eating more whole foods in the Comments – I would love to hear from you.  I also would love for you to  subscribe to Calm.Healthy.Sexy. by email.  Enter your email address in the sidebar (under Subscribe to Blog Via Email).  You'll receive an email when I publish a new post, nothing else.  And please follow Calm.Healthy.Sexy. on
Twitter
(@CalmHealthySexy),
Facebook
, or
Pinterest
.  Gaye
Linked to the fabulous blogs and blog hops at
33 Shades of Green
,
Serendipity and Spice
,
The Chicken Chick
,
I Gotta Try That
,
Flamingo Toes
,
Be Different Act Normal
,
Ladies Holiday
,
Friday Chaos
,
Sincerely Paula
,
Hey Mommy, Chocolate Milk
,
Romance on a Dime
,
Twinkle in the Eye
,
Live, Laugh, Rowe
and
What Jean Likes
.
Pin It