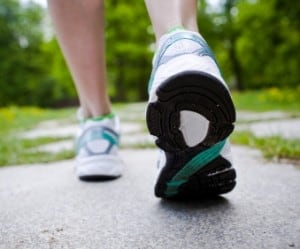 The first strategy for living a CalmHealthySexy life this year is to move your body every day.  You can call it exercise or physical activity or "sweatin' to the oldies" – it really doesn't matter, just so you get moving!  The question isn't should you do it, but what should you do and how can you make it a priority?
Move it!
Move your body for at least 30 minutes on 5 or more days of each week.*  Do something that increases your heart rate moderately and works up a bit of a sweat.  Do something you enjoy – walk, bike, play outside with the kids, do Zumba, take an exercise class, work out to a video – whatever works for you.
Spend less time sitting.  Move as much as possible throughout the day.  If you have a sedentary job (like I do) get up and move often.  When you're at home, do as many tasks as possible while standing or walking.  Limit the time you spend watching TV and other sedentary activities.
Strengthen your muscles.  At least 2 days per week, do exercises that build muscle strength.  This is my least favorite kind of exercise, so I struggle to do it consistently.  You can do it at a gym, or as part of a fitness class or workout, or at home with little or no equipment.  If you don't know how to get started, find a program or video online from a reputable source, like Prevention or Women's Health.
Stretch your muscles several days per week.  The expert advice on stretching is somewhat mixed, but many experts advise stretching as a way to warm up before aerobic exercise.  Do a bit of research to find stretching exercises that work for you.  Or start with this Stretching 101 Guide from Prevention.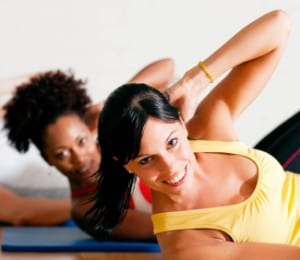 Make it a Priority!
Break it up.  If you can't exercise for 30 minutes at a time, break it into 2 15-minute or 3 10-minute segments.
Fit it into your daily activities.  Find ways to work exercise into your day. If you're sitting, get in the mindset of thinking, "Could I be moving instead?"  Walk while your children are at sports practices or lessons.  Walk during your lunch hour.  Do strength training or flexibility exercises while watching television.  Wear a pedometer and accumulate steps throughout the day (work up to 10,000 per day).  When shopping, park in a central location and walk to several stores.
Do it together.  Walk with your husband after dinner.  Ride bikes or play outside with your children.  Enlist co-workers to walk or workout with you before, during or after work.  If you're at home with young children, find other moms and walk or workout together.
Find creative ways to be active.  Find strategies for incorporating exercise into a busy schedule, such as 25 Easy Ways to Fit in 10 Minutes of Exercise or The 25-Minute Office Workout.
In order to stay calm, be healthy, and feel sexy, we need to move our bodies every day.  So if your goal is to have a CalmHealthySexy 2013, start moving today and keep it going throughout the year!
How have you incorporated exercise or physical activity into your life?  I would love for you to share your ideas in the Comments.  I also would love for you to  subscribe to Calm.Healthy.Sexy. by email.  Enter your email address in the sidebar (under Subscribe to Blog Via Email).  Or follow on Twitter (@CalmHealthySexy), Facebook, or Pinterest.
Gaye
*More detailed physical activity recommendations are available from the Physical Activity Guidelines for Americans.
Sharing with What Jean Likes and Pursuit of a Functional Home.
Pin It