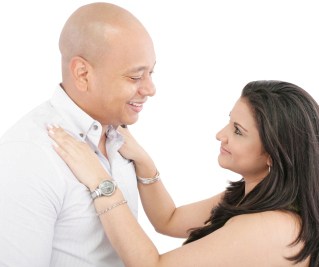 A SmallStep is one simple thing you can do to live calmer, healthier or sexier.  Last week, SmallStep #1 encouraged us to identify our husband's love language, which is simply the way he receives and understands emotional love.  SmallStep #2 is to "speak" his love language, by doing at least two things for him that express love in a way that is very meaningful to him.
If you don't yet know your husband's love language, I encourage you to identify it.  Dr. Gary Chapman, author of The 5 Love Languages, says this about the importance of loving your husband in a way that "speaks" to him – "Your emotional love language and the language of your spouse may be as different as Chinese from English.  No matter how hard you try to express love in English, if your spouse only understands Chinese, you will never understand how to show love to each other.  Being sincere is not enough.  We must be willing to learn our spouse's primary love language if we are to be effective communicators of love."
This week, I encourage you to do at least two things for your husband that show love to him in the language he understands.  This can be difficult if his language is very different from yours, but it's well worth the effort.  Here are just a few ideas for each of the primary love languages:
Words of affirmation – compliment him, thank him for something he does for you or your family, encourage him in his work or hobby, speak kindly and set a tone of kind language in your home, ask for his help.
Quality time – give him your undivided attention, spend time together doing something fun, participate with him in an activity he enjoys, eat meals together, ask him about something of interest to him and really listen to his answer, go to bed at the same time.
Receiving gifts – stock up on snacks and treats he likes, give him a card that expresses your love, buy him something he needs, buy him something he wants, give him tickets to an event he will enjoy.
Acts of service – think of things he has asked you to do in the past and do one of them, do something that will make his week a little easier, do one of his chores for him, cook his favorite meal, help him with a project or task.
Physical touch – hold hands when you're walking together, hug and kiss him when he comes in the door, sit close to him when you're watching TV together, pat his butt when you walk by him, rub his back or neck.
How has speaking your husband's love language worked for you?  What are some things you've done that have really spoken love to him?  Please share your experiences in the Comments – I would love to hear from you.  I also would love for you to  subscribe to Calm.Healthy.Sexy. by email.  Enter your email address in the sidebar (under Subscribe to Blog Via Email).   And please follow Calm.Healthy.Sexy. on Twitter (@CalmHealthySexy), Facebook, or Pinterest.  Gaye
Linked to the fabulous blogs and blog hops at Pursuit of a Functional Home, Live Laugh Rowe, Happy Wives Club, House of Hepworths, Think Outside the Blog, We Are That Family, Messy Marriage, To Love, Honor and Vacuum, Mercy Ink, Salt Tree, Not Just a Housewife, Fluster Buster, The Farmhouse Porch, The Naptime Review, Romance on a Dime, A Humble Bumble, Wrinkled Mommy The Chicken Chick, Lines Across, Life of Meg, I Gotta Try That, A Proverbs 31 Wife, My Turn for Us, Or So She Says  and Sunny Simple Life.
Pin It