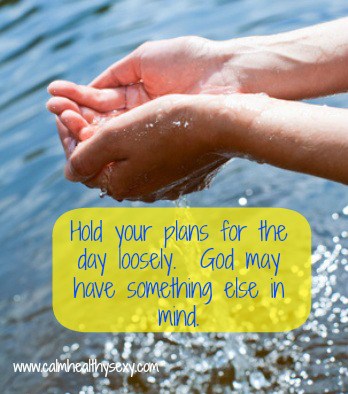 Do you talk with God throughout the day, asking Him to guide you toward his plans and purposes?  Or do you make your own plans, then charge through the day on a quest to achieve them?  I'd like to say I always do the former, but more often than not I find myself doing the latter.  I love my "to do" list, and love even more completing tasks and crossing them off that list.  My tasks seem worthwhile to me, maybe even important, but what if they aren't the tasks He has in mind for that day?  What if He has something slightly, or even entirely, different in mind?
God has plans for our lives (Jeremiah 29:11), and His plans are far superior to ours (Isaiah 55:9).  This week, let's keep those two truths in mind.  Let's infuse our days with prayer and hold our own plans loosely, staying open to the possibility that He may have something else in mind.
Sharing with Pin It Thursday, Catherine's Corner, The Pincentive Blog Hop, Mommy Monday Blog Hop, Pin It Monday and Inspire Me Monday.
Photo credit – © Dmitry Naumov – Fotolia