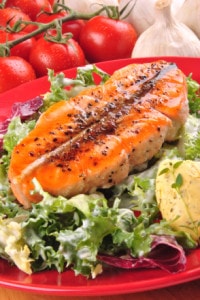 One of the foundations of a calm, healthy, sexy life is feeding your body well.  Our bodies crave the nutrients that fruits, vegetables, nuts, whole grains, lean meat and dairy provide, and we owe it to our bodies (and our minds and spirits) to provide these nutrients.  Sheila Gregoire wrote this week that when we neglect what our bodies need, they seem to crave things that are bad for us.  She often craves sweets when she's hungry or thirsty or hasn't taken the time to fix a good meal.  I crave sweets when I've been eating a bunch of junk.  I think that something similar is probably true for all of us, although our cravings may differ.
But, it's also true for  most of us that "eat healthy" is easier said than done.  We're too busy, and the lure of convenience foods and pre-cooked meals  is too great.  So we often feed our bodies junk – highly processed foods, fast foods, sweets, salty snacks and sodas.
If eating well seems like an impossible goal, don't be discouraged.  This post is the first in a 4-part Healthy Eating 101 series.  (Also check out Part 2, Part 3 and Part 4.) The goal of the series is to provide simple, practical ideas we can all use to eat nutritious, delicious foods – to feed our bodies well – without breaking the bank or keeping us in the kitchen until midnight every night!
Part 1 – Get Organized and Make a Plan
Eating well never "just happens."  It always requires organization and planning – both of which sound tiring.  The good news is, you can start small and work your way into a healthier eating plan.  Every change you make benefits your body, your health and your family's health – you don't have to become "super organic vegetarian woman" to reap the benefits.  Here are a few steps to help you get started:
Clean out and organize your refrigerator and pantry/cabinets.  I don't mean a "take everything out and change the shelf paper" cleaning!  Just get rid of food you aren't going to or shouldn't eat – i.e., it's too old or too unhealthy.  Put "like" things (or items that will make a meal) together and move the healthiest foods to the front for easy access.  Do this at the beginning of every week – once you do it 2 or 3 times, it will take less than 5 minutes but will pay you back in spades.
Make a plan for the week.  Take some time on the weekend to plan your family's food for the week.  Make a menu for dinners, taking into account evening activities.  Note which nights you'll need a quick meal and which ones will allow time for cooking.  In addition to dinners, think about lunches and snacks.  Also plan to double some meals and freeze the extras or send them to work or school as lunches.

Make healthy foods the easy choice.  After you shop for the week, do a few simple things that will make it easy for everyone in the family to eat well.  Make small bags or containers of snacks that children or adults can grab and go, like grapes. carrot sticks, nuts, dried fruit, and cheese cubes.  Cut up fruits and vegetables and put them in a convenient location in the refrigerator.  Make a tossed salad large enough for several meals (doing all of the cutting and chopping only once saves a lot of time!)
Be kind to yourself.  Don't have time to do all of these things?  Just do one – and count it as a victory.  Find yourself hitting the drive-thru because your meal plan didn't work out?  That's fine – it will take time to refine your menu, shopping and meals so that you end up with a plan that works for you and your family.
In Part 2 we'll discuss the perils of eating processed foods.  Part 3 will focus on the value of eating real foods, and in Part 4 we'll talk about pulling it all together and getting started.  But for now, I'd love to hear from you.  What strategies help you plan and organize healthier meals and snacks?  What are your successes and frustrations?  I also would love for you to  subscribe to Calm.Healthy.Sexy. by email.  Enter your email address in the sidebar (under Subscribe to Blog Via Email).  And please follow Calm.Healthy.Sexy. on Twitter (@CalmHealthySexy), Facebook, or Pinterest.  Gaye
Linked to the fabulous blogs and blog hops at Savoring Today, Salt Tree, Lines Across, Life of Meg, The Chicken Chick, I Gotta Try That, My Turn for Us, Matrimonial Monday, SITS Sharefest, Think Outside the Blog, Truly Lovely, What Jean Likes, Ladies Holiday, The Grant Life, That Friday Blog Hop, and Six Sisters Stuff.
Pin It